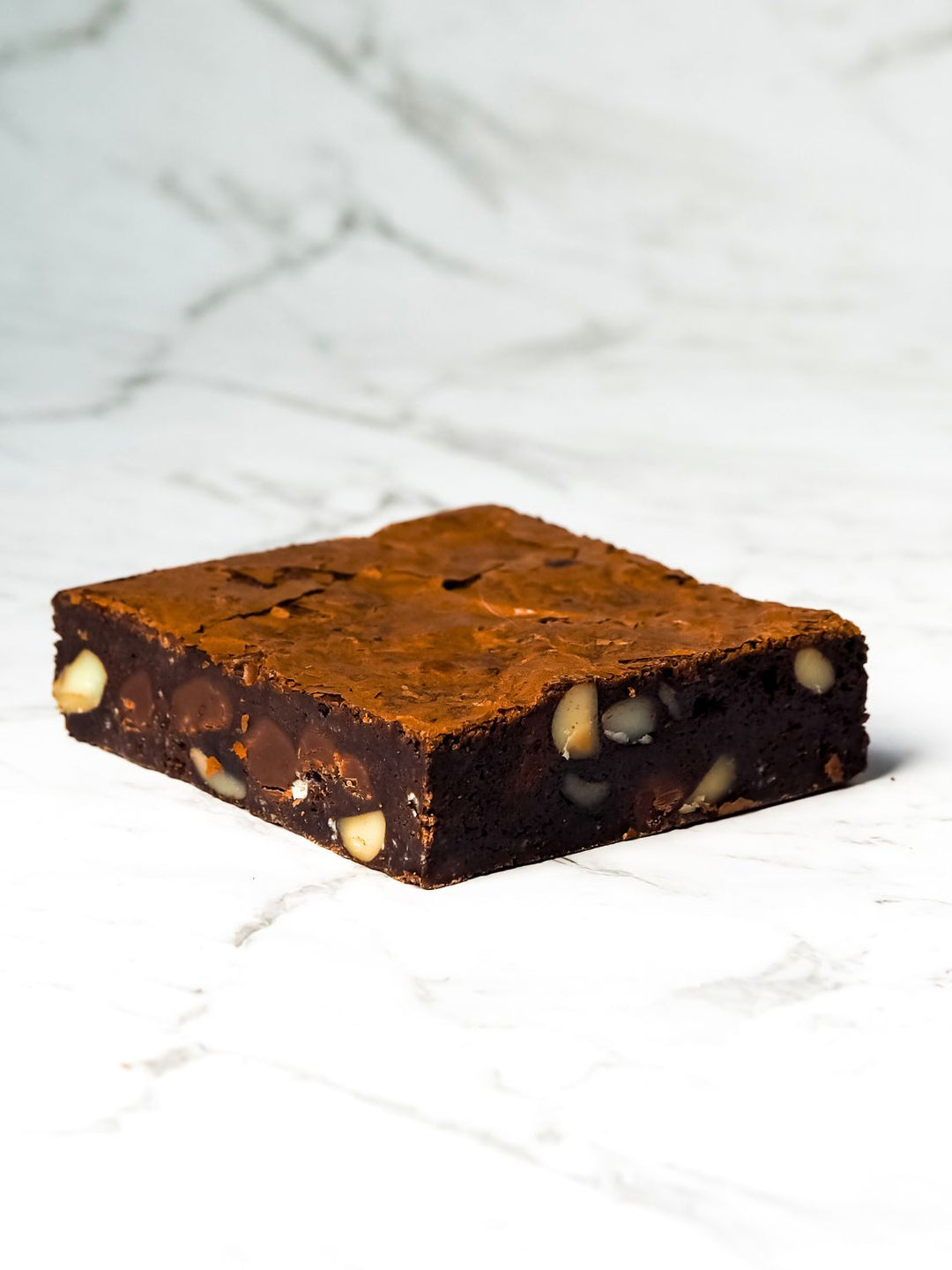 Gluten Free Chocolate Brownie with Roasted Macadamias - The Kingpin Brownie Block
Regular price
$22.00
/
Tax included.
---
In stock - Ready for Melbourne delivery / store pick up

Inventory on the way
100% Gluten Free
Macadamia & Dark Belgian Chocolate Brownie
Currently Sold Out - Pre-Order for Pick Up or Delivery from Friday 1st December
The Kingpin is our signature fudgy brownie filled with lightly roasted Australian Macadamia halves and hand cut Belgian dark chocolate chunks. We roast the Macadamias just before adding them to the brownie mix, giving this brownie a distinctive taste that comes from the natural sweetness of the beautiful macadamias. Together with the chunks of dark chocolate, you get contrasting textures with each bite.
This is one chocolate brownie that is lush, tasty and decadent. You'll be sure to remember The Kingpin!
Approximately 11.5 x 9.5 x 3cm and weighs 350 grams.
Store refrigerated in an air tight container once opened. Best consumed within 2 weeks. Can be frozen for up to 8 weeks.
Allergens: Tree Nuts (Macadamias), Eggs, Dairy (Low Lactose - Only dairy source is Butter) and Soy
Suitable for Vegetarians. All ingredients used are Halal.
Ingredients: Butter, Eggs, Tree Nuts (Macadamias), Sugar, Couverture dark chocolate (cocoa mass, cocoa butter, soy lecithin & natural vanilla), maize starch, rice flour, tapioca starch, rice bran, cocoa powder, Himalayan pink salt, guar gum. 
Melbourne & Regional Victoria Deliveries
Next day Melbourne delivery (Monday to Friday) from $10. Same week Regional Victoria and Greater Melbourne deliveries (order by Tuesday for Thursday or Friday delivery) from $20. Minimum $45 for delivery orders.
Store Pick Ups
Butter Mafia Dandenong Market
Shop P16, The Pantry, Dandenong Market, Cnr Clow and Cleeland Streets, Dandenong VIC 3175
Tuesdays and Sundays - 9am to 4pm
Fridays and Saturdays - 8.30am to 4pmORButter Mafia
Butter Mafia Northcote
Unit 25, 148 Arthurton Rd, Northcote VIC3070
Mondays to Fridays - 9am to 4pm
$15 Flat Rate Shipping Australia Wide.
Please note that shipping may take a few days, especially if interstate. If you are in Victoria and require delivery on a certain day, please choose "delivery" instead of "shipping".