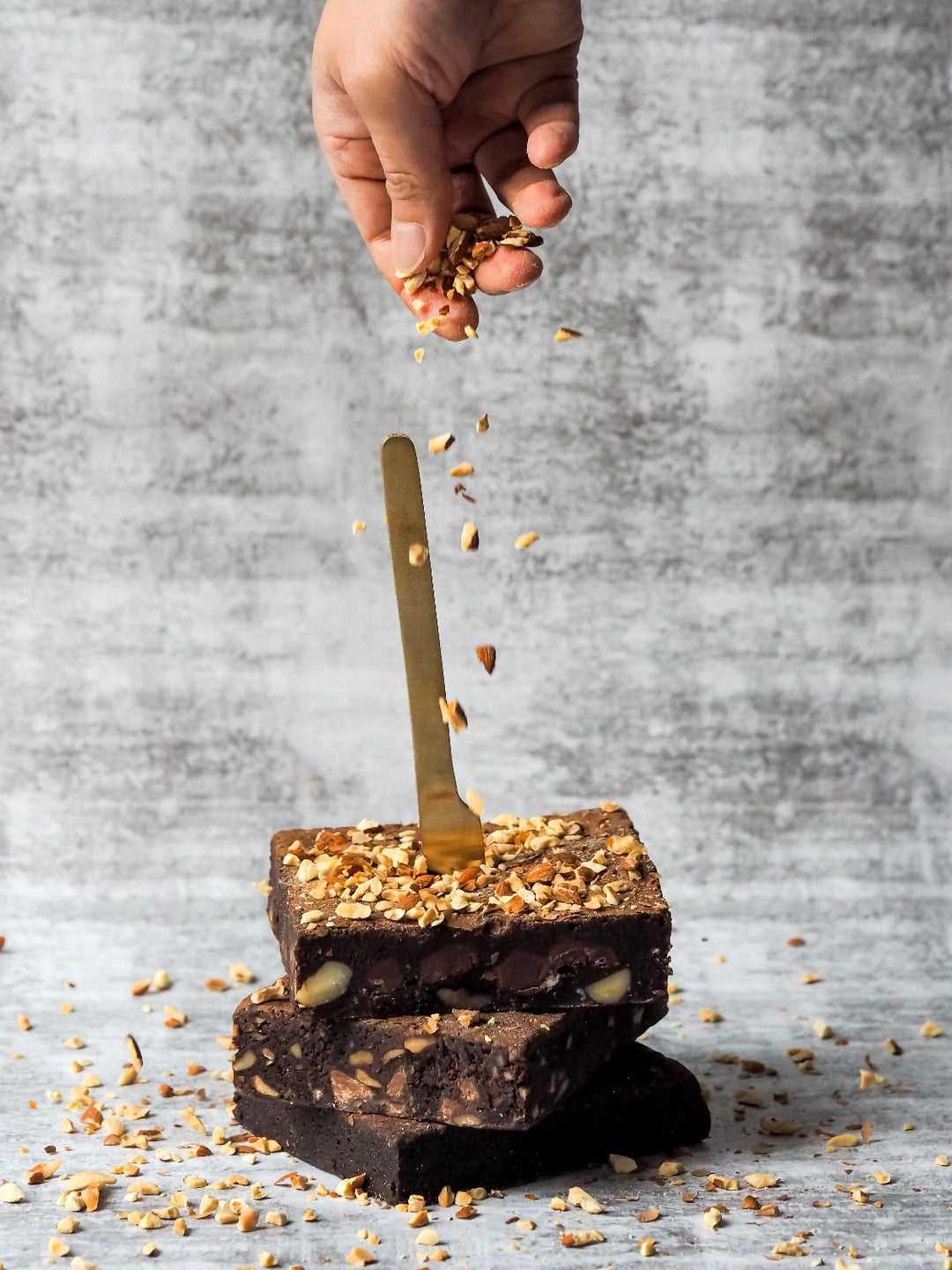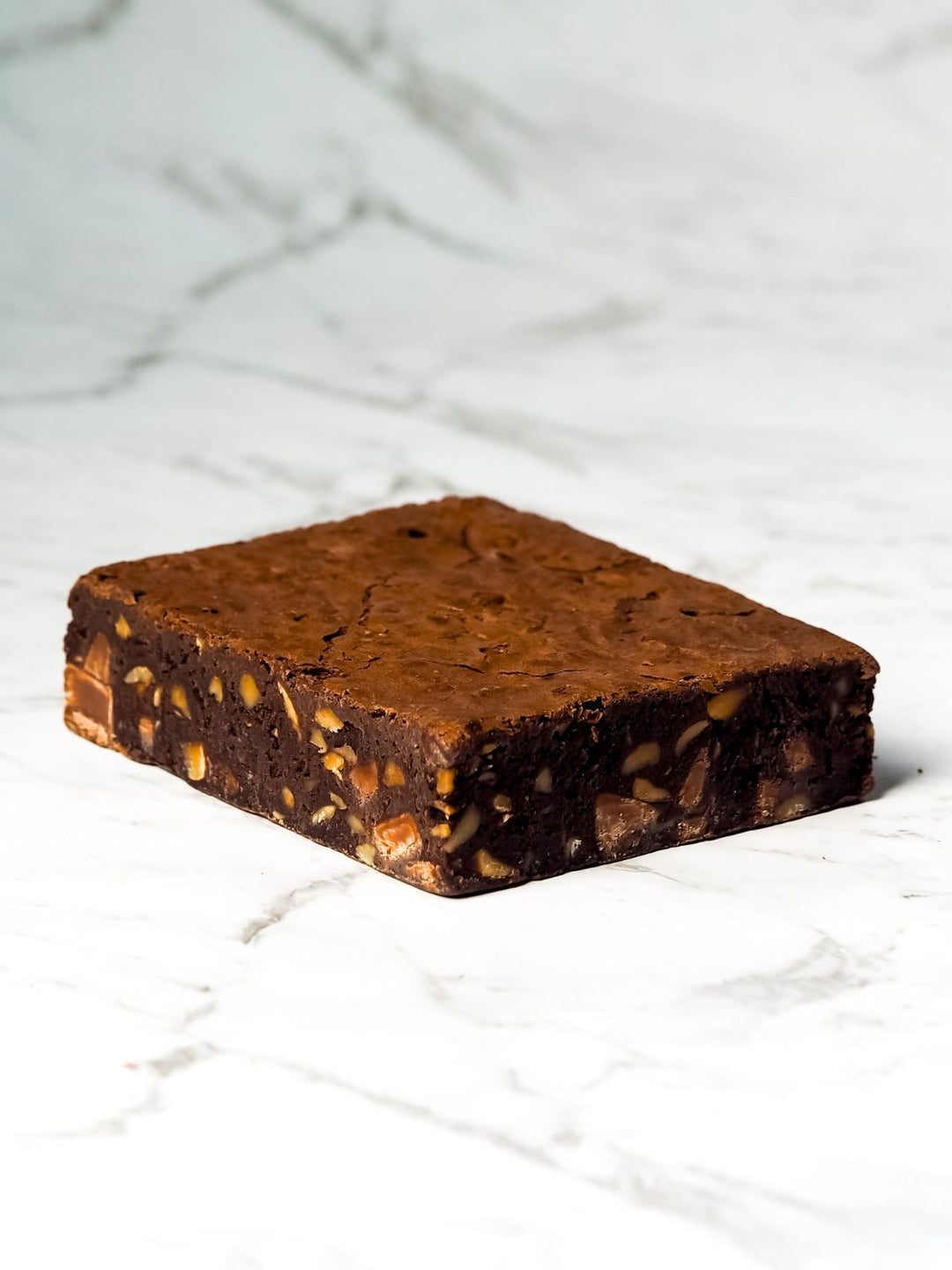 I Love Brownies Pack
Regular price
$77.00
Sale price
$72.00
/
Tax included.
---
Low stock - 4 items left, ready for Melbourne delivery / store pick up

Inventory on the way
100% Gluten Free
Chocolate Brownie Block Bundle
For all the Chocolate Brownie Lovers, this is one Brownie Pack your friends, colleagues and family will love! You get 4 Brownie Blocks. That's more than 1.2kgs of delicious chocolate brownie decadence!
The Kingpin Brownie Block
Macadamias and Dark Chocolate Chunks in our Signature Fudgey Chocolate Brownie
The Original Bad Boy Brownie Block x 2
Roasted Almonds and Milk Chocolate Chunks in our Signature Fudgey Chocolate Brownie
The Gangsta Brownie Block
Our Classic Signature Chocolate Brownie
Each Brownie Block is heat sealed in an air tight bag and has been made to be tasty, moist and delicious. They will keep for at least 14 days and can be frozen (up to 8 weeks) to make the deliciousness last. Most of our customers tell us it's challenging to stay off them for more than a few days!
If any of our Brownie Blocks are sold out, they will be replaced with an alternative of equal or higher value.
Brownie Blocks are approximately 11.5 x 9.5 x 3cm (Kingpin and The Original Bad Boy) and 11.5 x 9.5 x 2.5cm (The Gangsta).
Best stored refrigerated in an airtight container and consumed within 2 weeks. Can be frozen for up to 8 weeks.
Allergens: Tree Nuts (Almonds, Macadamias), Eggs, Dairy (Low Lactose - Only dairy source is Butter) and Soy
Suitable for Vegetarians. All ingredients used are Halal.
Ingredients: Butter, Eggs, Tree Nuts (Almonds, Macadamias), Sugar, Couverture dark chocolate (cocoa mass, cocoa butter, soy lecithin & natural vanilla), maize starch, rice flour, tapioca starch, rice bran, cocoa powder, Himalayan pink salt, guar gum. 
Melbourne & Regional Victoria Deliveries
Next day Melbourne delivery (Monday to Friday) from $10. Same week Regional Victoria and Greater Melbourne deliveries (order by Tuesday for Thursday or Friday delivery) from $20. Minimum $45 for delivery orders.
Store Pick Ups
Butter Mafia Dandenong Market
Shop P16, The Pantry, Dandenong Market, Cnr Clow and Cleeland Streets, Dandenong VIC 3175
Tuesdays and Sundays - 9am to 4pm
Fridays and Saturdays - 8.30am to 4pmORButter Mafia
Butter Mafia Northcote
Unit 25, 148 Arthurton Rd, Northcote VIC3070
Mondays to Fridays - 9am to 4pm
$15 Flat Rate Shipping Australia Wide.
Please note that shipping may take a few days, especially if interstate. If you are in VIctoria and require delivery on a certain day, please choose "delivery" instead of "shipping".