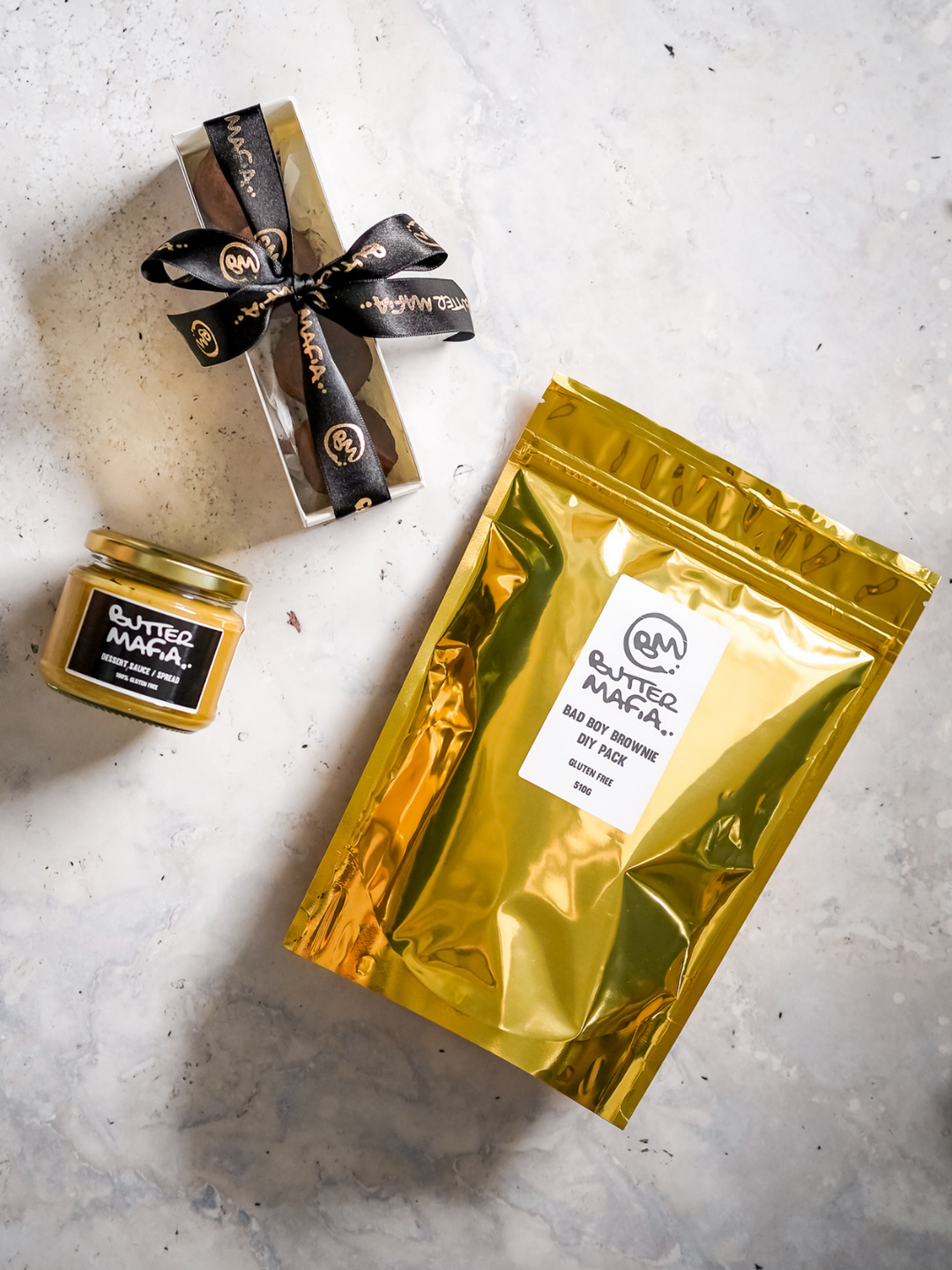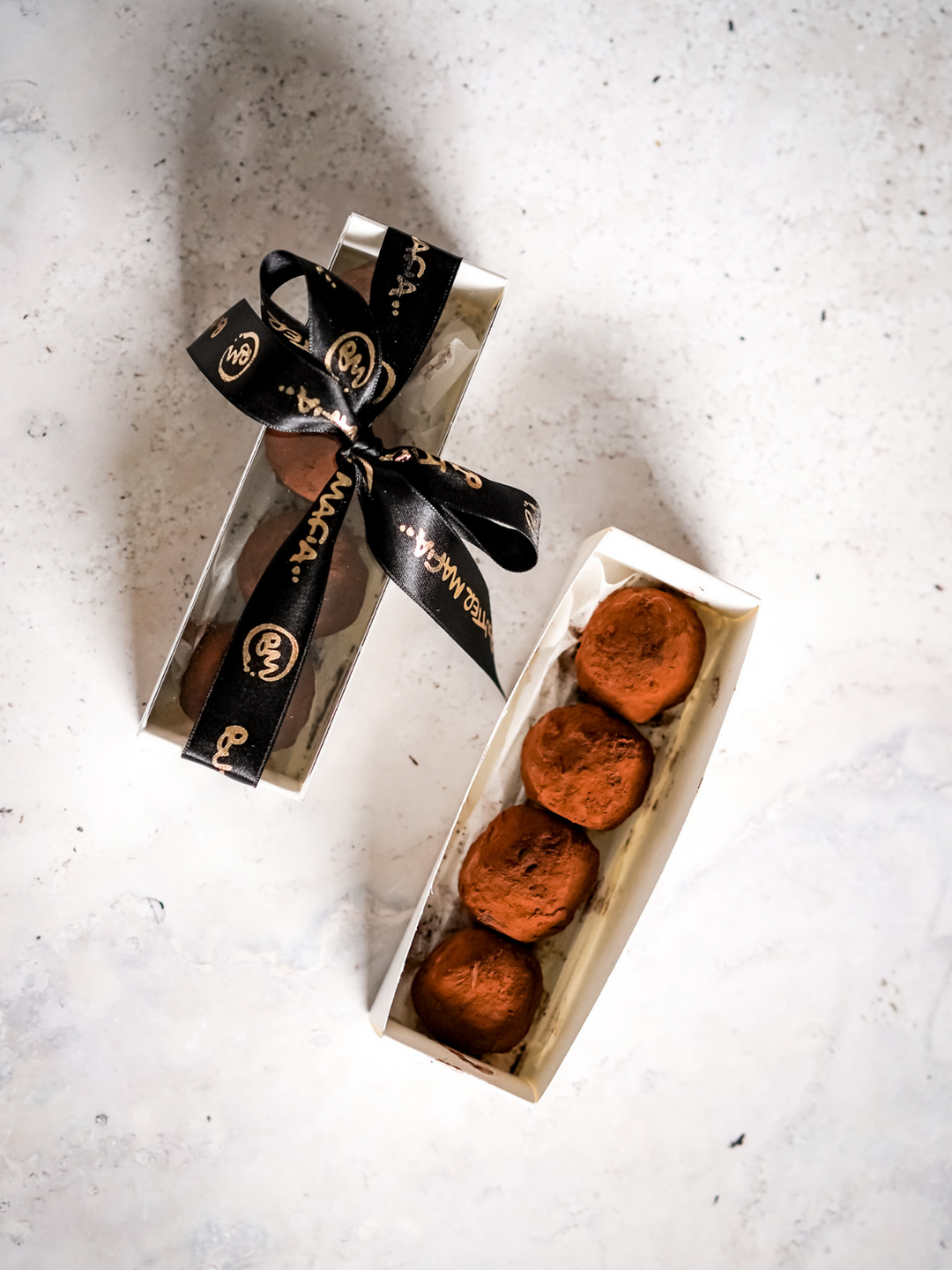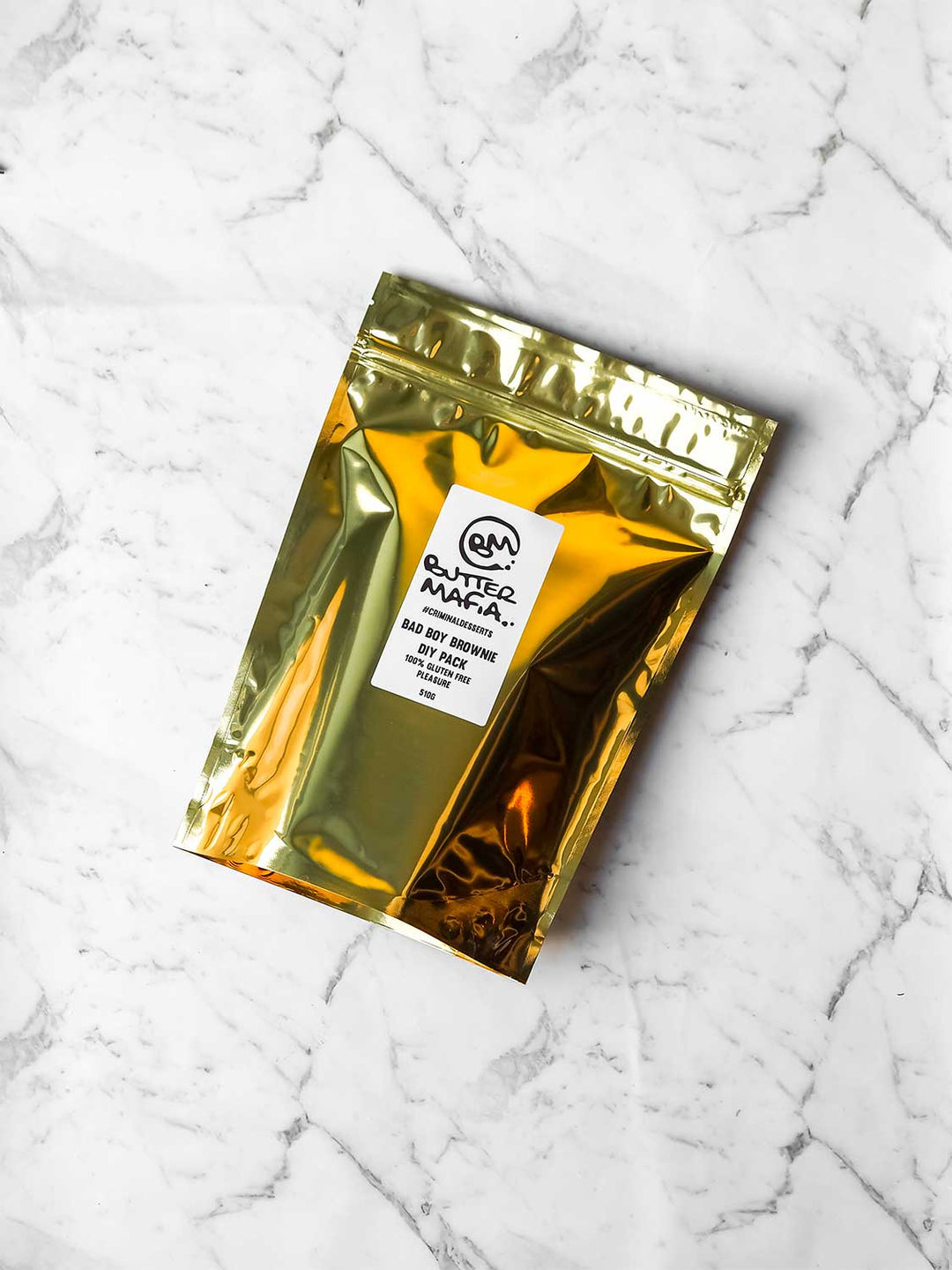 Chocolate Truffles, Salted Caramel and Brownie Mix "Saucy Truffle Bundle"
Regular price
$72.00
Sale price
$65.00
/
Tax included.
---
In stock - Ready for Melbourne delivery / store pick up

Inventory on the way
100% Gluten Free
Chocolate Truffles + Salted Caramel + Brownie Mix = Desserts your own way...
On their own, our Chocolate Truffles are deliciously decadent. Paired together with our Salted Caramel (Mafia Darling Dessert Sauce/ Spread), they both get levelled up! These are a match made in a heaven and give you an absolutely lush experience when you have them together. Our dessert sauce is also amazing heated up and drizzled over freshly baked brownies... and that's why we've put curated these as our Saucy Truffle Bundle!
With our  Saucy Truffle Bundle, you'll get:
The Melbourne Truffle (9 or 4 Piece) Gift Box
Mafia Darling Dessert Sauce/ Spread
Bad Boy Brownie DIY Pack
The Melbourne Truffle Gift Box
The Melbourne Truffle is the perfect after dinner treat. A rich decadent chocolate dessert truffle hand rolled in cocoa and filled with roasted almonds and milk chocolate pieces. The Melbourne Truffle is one decadent chocolate truffle that is lusciously smooth and textured at the same time. 
Salted Caramel "Mafia Darling" Dessert Sauce/ Spread 
This Salted Caramel is rich, smooth and very tasty. You can have it whichever way you want - eat it cold, straight out of the jar, spread it onto toast, pancakes or waffles. Turn it into a sauce by heating it gently over the stove or in the microwave and have it with ice cream. It's also fantastic with The Melbourne Truffle or with our Bad Boy Brownies which you can enjoy freshly baked!
Gluten Free Brownie Mix "Bad Boy Brownie" DIY Pack
Make our signature brownies at home with our signature Brownie Mix. Simple. Easy. And Mess-free! All you need is eggs, butter, a pot, a baking pan and 45 minutes later, you'll have freshly baked brownies which taste exactly like ours.
A lot of our customers stock up on our Bad Boy Brownie DIY Packs because they get special requests to make this for parties and gatherings. You don't have to tell anyone you made it with our secret mix. We've got your back! Pass them off as your own and be the star at your next gathering. You're welcome.
Baking these is also the perfect family activity during weekends and school holidays. There's nothing better than sinking your teeth into freshly baked brownies while they're still warm. Some of our customers have told us they empty a tub of gourmet ice cream onto our brownies while they're in the warm baking dish for the ultimate netflix and chill treat!
What you get in each DIY Pack: Our 100% Gluten Free Brownie Mix with instructions that will make you a 20 x 20cm tray of decadent brownies. You'd get 16 (5 x 5cm) to 25 (4 x 4cm) pieces. This works out to be about 17 pieces of our cafe portioned Bad Boy Brownies.
What you need:
Medium sized pot/saucepan
Square baking pan (8 x 8 inches or 20 x 20 cm)
Baking paper
4 medium sized eggs (please use free range)
200 grams good quality unsalted butter
Truffles: Approximately 4cm in diameter
4 Piece Truffle Gift Box measures 16.5 x 5 x 5cm
9 Piece Truffle Gift Box measures 37 x 5 x 5cm
Salted Caramel Sauce/ Spread: 220g of Salted Caramel in a Glass Jar (Total Weight with Jar approximately 400g.
DIY Pack: 510grams
Care Guide
Store Truffles and Salted Caramel Sauce/ Spread refrigerated. Store DIY Pack in a cool dry place away from heat sources.
We recommend eating Truffles at room temperature so they soften as these are a baked low lactose truffle. Truffles are best consumed within 14 days. Can be frozen for up to 8 weeks.
Allergens: Dairy, Eggs, Almonds (Tree Nuts) and Soy
Suitable for vegetarians. All ingredients used are Halal.
Ingredients:
Truffles: Butter, sugar, free-range eggs, dark couverture chocolate, maize starch, rice flour, tapioca starch, rice bran, cocoa powder, Himalayan pink salt, Madagascan bourbon vanilla bean paste, guar gum, soy lecithin
Salted Caramel Sauce/ Spread Ingredients: Sweetened Condensed Milk, Golden Syrup, Butter, Himalayan Pink Salt, Vanilla Bean
DIY Pack Ingredients: Sugar, Couverture dark chocolate (cocoa mass, cocoa butter, soy lecithin & natural vanilla), maize starch, rice flour, tapioca starch, rice bran, cocoa powder, Himalayan pink salt, guar gum. 
Melbourne & Regional Victoria Deliveries
Next day Melbourne delivery (Monday to Friday) from $10. Same week Regional Victoria and Greater Melbourne deliveries (order by Tuesday for Thursday or Friday delivery) from $20. Minimum $45 for delivery orders.
Store Pick Ups
Butter Mafia Dandenong Market
Shop P16, The Pantry, Dandenong Market, Cnr Clow and Cleeland Streets, Dandenong VIC 3175
Tuesdays and Sundays - 9am to 4pm
Fridays and Saturdays - 8.30am to 4pmORButter Mafia
Butter Mafia Northcote
Unit 25, 148 Arthurton Rd, Northcote VIC3070
Mondays to Fridays - 9am to 4pm
$15 Flat Rate Shipping Australia Wide.
Please note that shipping may take a few days, especially if interstate. If you are in Victoria and require delivery on a certain day, please choose "delivery" instead of "shipping".